MCF-7 Breast Cancer Genome Analysis

This page contains news relevant to the genomic analysis of the MCF-7 breast cancer cell line BAC library sequencing project.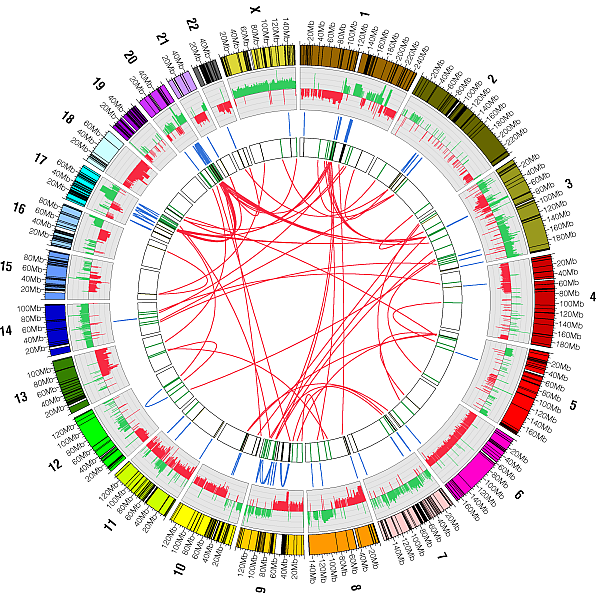 Circular visualization of the MCF-7 genome obtained using Circos software courtesy of Dr. Martin Krzywinski. Chromosomes are individually colored with centromeres in white and Low Copy Repeat (LCR) regions in black. MCF-7 BAC array Comparative Genome Hybridization data (Jonsson et al. 2007) is plotted with gains is green and losses in red using log(2)ratio. The inner chromosome annotations depict 157 somatic MCF-7 breast tumor chromosomal rearrangements associated with LCRs (black) and breakpoints not associated with LCRs (green). Chromosomal rearrangements are depicted on each side of the MCF-7 breakpoints; intra-chromosomal rearrangements (blue) are located outside and inter-chromosomal rearrangements (red) are located in the center of the circle.

News [ Submit News ]

| | |
| --- | --- |
| 4/08/2009: | The 157 MCF-7 Somatic Breast Cancer Breakpoint Annotations are now available in Tabular View form; as well as in tab delimited file form. The MCF-7 somatic breast cancer breakpoint annotations provide exact base pair locations. |
| | |
| 12/12/2008: | The MCF-7 Genomic Primers are now available in Tabular View form. 410 primer sets have been designed; however, only those primer sets numbered 1-157 span confirmed somatic MCF-7 break points. The rest of the primer sets span unresolvable mappings, structural variants or BAC library induced break points; produce no amplification product; or represent redundantly identified break points. Note, that for break points located in problamatic amplification areas; nested primers exist...nested primer sets are denoted by ".2". |
| | |
| 12/01/2008: | The Supplementary Materials are now available for A sequence-level map of chromosomal breakpoints in the MCF-7 breast cancer cell line yields insights into the evolution of a cancer genome. Authors: Oliver A. Hampton, Petra Den Hollander, Christian A. Miller, David A. Delgado, Jian Li, Cristian Coarfa, Ronald A. Harris, Stephen Richards, Steven E. Scherer, Donna M. Muzny, Richard A. Gibbs, Adrian V. Lee, and Aleksandar Milosavljevic. |
| | |
| 12/01/2008: | The Break Point Table is now available for A sequence-level map of chromosomal breakpoints in the MCF-7 breast cancer cell line yields insights into the evolution of a cancer genome. Authors: Oliver A. Hampton, Petra Den Hollander, Christian A. Miller, David A. Delgado, Jian Li, Cristian Coarfa, Ronald A. Harris, Stephen Richards, Steven E. Scherer, Donna M. Muzny, Richard A. Gibbs, Adrian V. Lee, and Aleksandar Milosavljevic. |
| | |
| 12/01/2008: | The Break Point Associated Gene Table is now available for A sequence-level map of chromosomal breakpoints in the MCF-7 breast cancer cell line yields insights into the evolution of a cancer genome. Authors: Oliver A. Hampton, Petra Den Hollander, Christian A. Miller, David A. Delgado, Jian Li, Cristian Coarfa, Ronald A. Harris, Stephen Richards, Steven E. Scherer, Donna M. Muzny, Richard A. Gibbs, Adrian V. Lee, and Aleksandar Milosavljevic. |
| | |
| 12/01/2008: | The Break Point Gain & Loss Table is now available for A sequence-level map of chromosomal breakpoints in the MCF-7 breast cancer cell line yields insights into the evolution of a cancer genome. Authors: Oliver A. Hampton, Petra Den Hollander, Christian A. Miller, David A. Delgado, Jian Li, Cristian Coarfa, Ronald A. Harris, Stephen Richards, Steven E. Scherer, Donna M. Muzny, Richard A. Gibbs, Adrian V. Lee, and Aleksandar Milosavljevic. |
| | |
| 11/19/2008: | Genome Research accepts A sequence-level map of chromosomal breakpoints in the MCF-7 breast cancer cell line yields insights into the evolution of a cancer genome. Authors: Oliver A. Hampton, Petra Den Hollander, Christian A. Miller, David A. Delgado, Jian Li, Cristian Coarfa, Ronald A. Harris, Stephen Richards, Steven E. Scherer, Donna M. Muzny, Richard A. Gibbs, Adrian V. Lee, and Aleksandar Milosavljevic. |
| | |
| 11/10/2008: | Genome Research receives A sequence-level map of chromosomal breakpoints in the MCF-7 breast cancer cell line yields insights into the evolution of a cancer genome. Authors: Oliver A. Hampton, Petra Den Hollander, Christian A. Miller, David A. Delgado, Jian Li, Cristian Coarfa, Ronald A. Harris, Stephen Richards, Steven E. Scherer, Donna M. Muzny, Richard A. Gibbs, Adrian V. Lee, and Aleksandar Milosavljevic. |
| | |
Browse MCF-7 Breast Cancer Genone by Chromosome:

Search MCF-7 Breast Cancer Genone by Keyword:

Enter the RefSeq Gene Symbol or gene name.
Or enter a break point number. Confirmed somatic MCF-7 break points are numbered consecutively 1-157.
You can also try searching using other "Keywords" (eg, Primer name, Sequence name, etc)